Freud Circular Saw Blade - 7-1/4" - 24T / D0724A Series *DIABLO
Tracking Point Tooth Geometry - Tri-Metal Brazing - Laser Cut Vents - Carbide Tipped Teeth - Perma-Shield Coating - 8,000 Max RPM - For Corded & Cordless Circular Saws
---
Tracking Point Tooth Geometry - Tri-Metal Brazing - Laser Cut Vents - Carbide Tipped Teeth - Perma-Shield Coating - 8,000 Max RPM - For Corded & Cordless Circular Saws
Product #:
FRED0724PX
Options:
PackageQty: 2 (Two)
---
---
Available Online:

0
Pre Order Item
Estimated Availability Date:
---
Call for Availability
---
QTY:
---
ADD TO CART
BUY DIRECT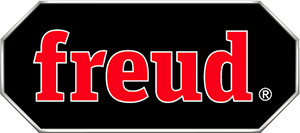 Freud Tools is an industry leader for more than 50 years, Freud Canada, Inc. is a manufacturer and marketer of superior carbide cutting tools for the woodworking industry.
No customer reviews for the moment.
The Diablo 7-1/4", 24 Teeth Thin Kerf Framing Blade is built to cut through hardwoods, 2x lumber, pressure treated wood, OSB, laminated beams, and nail-embedded wood.
---
Build
The tracking point tooth design provides straight cuts and controls carbide tip wear so the blade has a 5x longer cutting life than other blades and 2x the durability in nail-embedded wood.

Get up to 65% more cuts per battery charge in cordless saws with this blade compared to other blades.

This blade also has newly enhanced anti-vibration design that provides an ideal combination of stability with rigidity.
---
Non-stick aluminum alloy coating for less drag, gumming and corrosion!
Circular Saw Blade: A circular saw blade is a toothed or abrasive disc built to spin around an arbor in a rotary motion. It's used by a multitude of saws including, but limited to, miter saws, circular saws, table saws and more.
| | |
| --- | --- |
| Vendor Part #: | D0724PX |
| Arbor Diameter: | [5/8 inch] |
| Blade Diameter: | [7-1/4 inches] |
| Kerf: | 0.059 |
| Max RPM: | 8,000 |
| Teeth: | [24 ATB] |
| Teeth Type: | Tracking Point |
| Hook Angle: | 15° |
| Plate Thickness: | 0.040 inch |
√

for Cutting Wood

√

for Cutting Hardwood

√

for Cutting OSB

√

for Cutting 2x Lumber

√

for Cutting Pressure Treated Wood

√

for Cutting Nail Embedded Wood